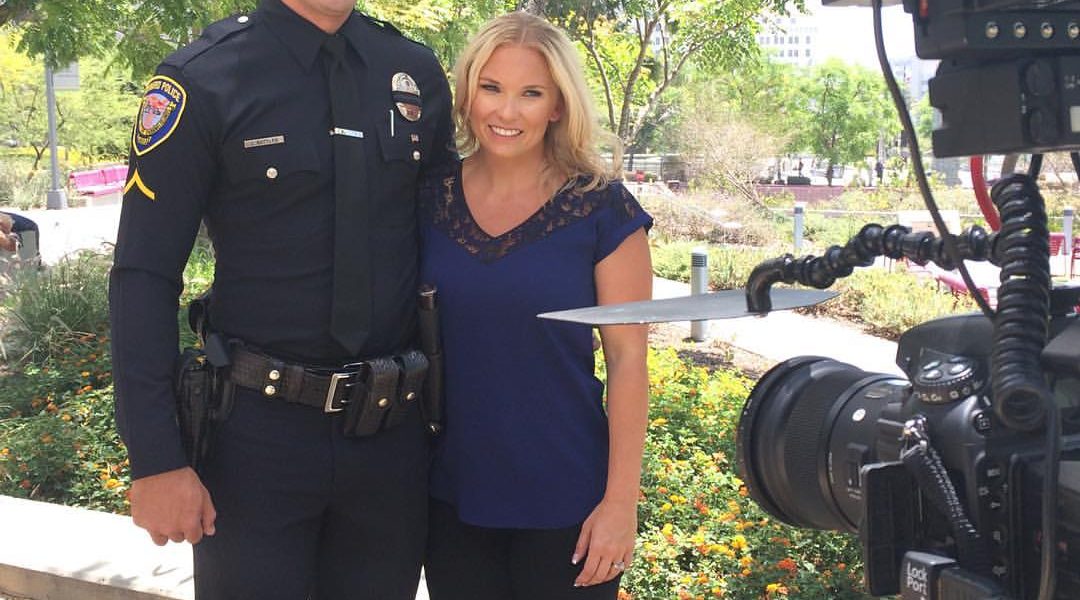 When Behind the Badge Meets the Media
A Producer from ABC News in New York saw my Facebook post regarding my husband and Law Enforcement and thought it would be a perspective worth considering for the Townhall with President Obama. She asked if I would like to interview, and if Jared would be interested in joining me.
I was shocked. I called Jared, who as I mentioned in the post, is reserved in nature….he's certainly not one to be outspoken and in the spotlight. We make a great pair, ha! He talked with his Chain of Command, and like a crazy woman, I asked Jared if I could speak with the Chief of Police at his department, or truly, anyone to help direct me, as I did not know the extent of what I was getting myself into and would never want to jeopardize Jared, his department or our safety. There were just a lot of unknown factors at the time and wanted to be respectful of all who were being brought into this with me.
We were encouraged to participate, so at 8:30PM I made my way to the mall, because I obviously needed an outfit to wear on National Television early the next day! HA! From there, my phone was blowing up with emails from Producers in LA and in New York, even asking what question we would want to ask President Obama.  We had no idea what the morning would bring, and were hesitant knowing that the Townhall was on race, whereas, my Facebook post was about the character of my husband as an active Police Officer. To say I was nervous about how this would be presented, is an understatement.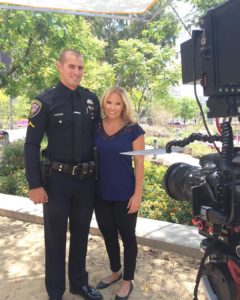 We spent 2 hours in Downtown LA, answering tough questions and providing our perspective as a Police Officer and as the wife of a Police Officer. We were not given much information on how content would be used or worked into the Townhall meeting, but us and 2 other individuals were interviewed to represent California. Other interviews were conducted in other major cities around the US.
When we wrapped up the interview, my phone was chaos. I had some messages and calls from a reporter with KCAL/CBS news who wanted to do a feature on positive Law Enforcement and was referred to my Facebook post. She had also  heard about our interview for the Townhall!
We got home and the reporter came inside and interviewed us.  She was a wonderful reporter and covered the sentiment of my intentions well! My only complaint was the up close filming! OMG I had just spent the whole day standing in the LA heat with a ton of makeup on! So, yes, you all got to see me sweaty, nervous and up close and personal! Ha! It aired the same day we were interviewed. Thank you Dana from Cheek to Cheek for being my hair and make up bootycall! 🙂
The next afternoon, I received a Facebook message from a woman with The Ventura County Star and was asked to interview. We did a phone interview, and later that night, she spoke with Jared to complete the article. We were honored to be featured respectfully within our local community.
We and the others that were asked to interview, were only included in the introduction of the Townhall conversation, but that's ok! The fact that our perspective and experience representing the families of Law Enforcement was respected, well received and even considered for this event was an honor. It prompted some great recognition within our community and most importantly, honored the men and women, who just like my husband, leave their family to protect and serve the community they work for.
I've received text messages, emails and messages from Officers, mothers, fathers, wives and children of Law Enforcement. I'm humbled by their words and proud that I was able to represent their voices in a positive light, admits the chaos that is surrounding their particular career right now.
The irony of this all, is that I wrote this post so that my husband would see something uplifting, when the rest social media, even prior to the Dallas murders, seemed to be filled with racism, generalizations and anti-cop semantics. I never get involved in online banter, especially regarding Law Enforcement. I learned long ago to just  stay quiet, which is why I shared a personal photo, and personal message about my husband on my PERSONAL Facebook profile, not my Everyday Battles one, where I post daily. Our social media friends know what he does, and are supportive, or so I thought. The ones that have exclaimed racist or anti-cop messaging are no longer on my friends list. I will not tolerate either, as so much of my work is done via social media.
It was not my intention to "speak on race." I simply wanted to honor Jared's character and the character of so many individuals in this field that will go unrecognized for the majority of their career. It takes a tragedy to bring light to the risks of their job, a job that they genuinely love. What's happening everywhere is awful and I have empathy for every family and all experiences. It is not my role to tell someone how they should feel, which is why I'm not representing a "side." My words were used to represent the heart of what I do know, the heart I can speak on behalf of,  because it's the heart of who I married and the majority of other Officers and their family, who hold the same reality.
We are raising Cade with all our efforts to grow up respecting everyone, despite what they look like, where they come from, what their parents do, etc. Compassion is taught. He will grow up respecting the Police because he's being raised by a lot of them. Our Blue family is big and I couldn't be more honored to be a part of something bigger than ourselves.
Thank you for sharing the message. Thank you for being respectful. I will continue to feel blessed by this entire experience and stay away from reading the comments section, because that's where this whole thing that we tried to represent well, feels intimidating and misconstrued. I can't tell you how much your love and support means to us, and to the Law Enforcement family as a whole.