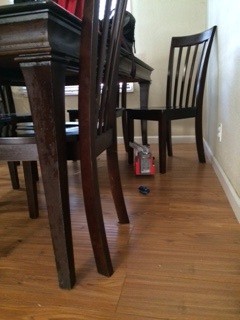 The Time I Sat Under the Kitchen Table and Cried
It was today. It was such a powerful, meaningful moment that I had to write it down, to process it and own it.
Cade asked me to come sit under the kitchen table with him. He has a thing about tunnels, and is convinced the kitchen table is a tunnel.
Anyway, I crawled under there to join him, Pooh Bear, a fire truck and a creepy plastic frog that he's oddly obsessed with. I had gotten home about :30 minutes prior, and when I sat under there, he proceeded to have a "party," serving me pretend food and quickly went to get a Thomas train that he insisted was a cupcake. When he came back, he asked me "how was work, mommy?" Today, going to work, meant going to meet a Therapist with the intention of networking, feeling confident referring my clients to her for any postpartum mental health condition. Considering so much of my career is founded on my own struggles within the first year of motherhood, some reflection into the past made it's way into our "networking" meeting. Ha!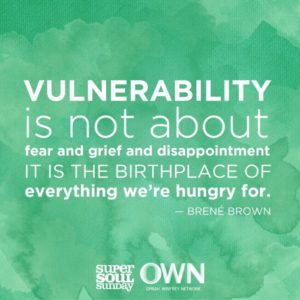 As I started to respond to Cade, I felt the heaviness rinse over me and tears filled into my eyes as I thought about parts of the conversation I had just had with this Therapist. I told him, "work was really good. I met with a friend who helped mommy and other mamas. We talked about what life was like when you were a little baby." For whatever reason, he loved that answer. So I continued this talk, with small tears slowly falling from my eyes, imagining his newborn face that has, with a slow blink of an eye, transformed into a beautifully pure and wild 2 year old.
I told him that, "we talked about the times when mommy was sad and very overwhelmed. But mommy is so much happier now. I have loved you always, even when I didn't know how, even when it didn't seem like enough."
He responds with a giant laugh and squealed, "mommy why you crying?!?"….ha…"I don't even know, but I love you and I'm just really sorry."
He scooted over and kissed my tear and insisted I feed his firetruck a Thomas the Train. Ah, raising a little boy. 🙂
The irony is so real, the same precious child that made me feel so inadequate, the little one who forced me to question my supposed "innate abilities," as a mother is the same precious child that has made me the strong, humbled and empowered person I was destined to be.
When you've been low, sad, scared, resentful, desperately overwhelmed, angry and lost during the time of  life that you're supposed to be your happiest, when your self expectations were at their highest, you spend the rest of your life being hyper aware of your own tendencies, all while trying to make up for lost time and moments of presence. As if the normal amounts of mom guilt aren't enough, guilt from having postpartum depression, anxiety, trauma, stress, struggles, whatever it may be, can be devastating and haunting. Even with help and owning it, it is still forever a part of your story.
Being truly present with Cade is effort. It's all too easy for me to shut down and try to escape when he's too much, when I'm too much, when life is too much. So, I have to make the effort to be present with him because it's not always natural. Some days making up for lost time and hard times is a smoothie date, a workout together, a park trip, cuddling up to watch a movie, going on a hike or planning a family outing. I can't fix what was, but I can embrace what is.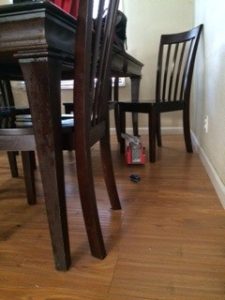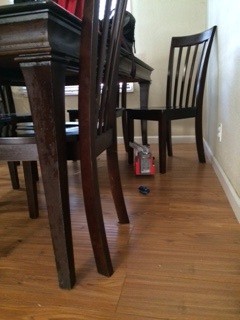 Today, it was under the table, having a party with him, some toys and some harbored emotion.
Mamas, you're never alone. It's never totally perfect- we're all in this, trying to make sense of it, troubleshooting ourselves and our child(ren). Owning the struggles as much as we own the joys will make us all better, and united in this process.